Automated Grease Trap Systems
Goslyn Grease Recovery Device
A n innovative replacement to conventional grease traps and/or grease interceptors. Our Automated Grease Recovery Devices significantly outperform and outlast all grease traps, and grease interceptors on the market. Permanent Compliancy. Grease Trap Pumping Never Required.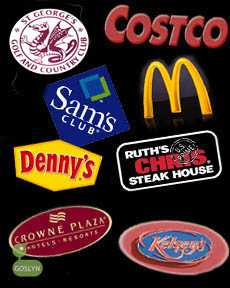 Even food solids are trapped with Goslyn Grease Recovery Devices. Grease Interceptor and Grease trap pumping is permanently eliminated. Automatic Grease traps with stainless steel construction, no moving mechanical parts and superior grease recovery.
Dominates grease interceptor technology in all foodservice sectors. Recovered Fats, Oils, and Grease are recycled for biodiesel, not hazardous waste.
Commercial Kitchen &
Industrial Manufacturing
Grease Recovery Systems

Grease Trap Compliant in any Jurisdiction
Never Call a Grease Trap Collection Service again

"No trench and minimal installation was required for this grease interceptor. No trap pump-outs or blockages have saved our franchisees hundreds monthly. Finally, a proven solution to the old rancid grease trap".
Construction Project Manager - Fast Casual Chain

Automated Grease Trap Technology
Superior Grease Trap Systems Optimizing Restaurants
Foodservice and Food Manufacturing Facilities
Automatic Grease Traps with Ongoing Cost Reductions
Never have a Grease Trap Maintenance Expense Again!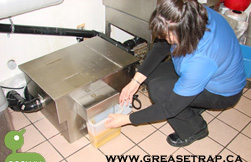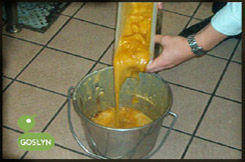 Zero Waste - No Odors - Recovered Grease is Recycled with
the Waste Vegetable Oil (WVO) from the deep-fryers

Superior Grease Trap Systems
We can't say our Grease Traps recover 100% of the grease.
99.6% Grease Recovery from Foodservice Wastewater
Goslyn Automated Grease Traps end costly pipe blockages, overflows, grease trap pumping and rancid odours.

Doubt our Grease Trap Solution? - See a Live Demonstration!
Grease Interceptor and Grease Trap Pumping is expensives - Goslyn Grease Traps Lower Your Kitchen Costs providing Permanent Preventative Maintenance
Automated Grease Trap Technology

Automated Grease Trap Features
Grease interceptor & Grease trap pumping eliminated
Grease trap servicing eliminated
Automated Grease Recovery Systems that remove all food solids
Grease traps without mechanical breakdowns
Recovers grease from 3-Compartment Sinks, Automatic Dishwashers,
Chicken Rotisseries & Combi-Ovens
Uncomparable Grease Interceptor efficiency
Goslyn Grease Traps - fit under any 3-Compartment sink
Easily retrofit existing grease traps & grease interceptors
Outperforms Passive Grease Interceptors with Substantial Savings
A No-Nonsense Automated Grease Interceptor Technology
Odour Free Grease Traps - Only Goslyn
Less Expensive To Install, Service & Maintain
than Passive Grease Traps & Grease Interceptors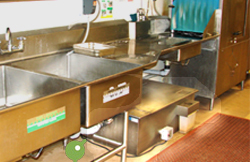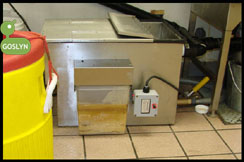 Goslyn Grease Recovery Devices - The Ultimate Grease Interceptors - Period

"Goslyn Grease Recovery Systems have provided us with substantial cost reductions. Monthly Pumping and chemical costs are now zero. The Goslyn grease trap systems have given the management staff "Peace of Mind" on their days off" Leading QSR Chain

Goslyn Grease Recovery Devices have raised the standard in
grease recovery of which all other grease traps and
grease interceptors cannot compete.

The New Standard in Grease Traps
The #1 Automatic Grease Recovery Unit